X-RAY DIFFRACTION AND CRYSTALLOGRAPHY
X-ray diffraction is an analytical method based on the inspection of the crystalline structure of samples. Applications can be found in Metallurgy, Mineralogy Powders, Pigments, Polymers Surface layers, or Strain mapping. Our spectral imaging detector is the key to the next level of material analysis.
The traditional XRD uses monochromatic X-rays, which make the apparatus large and slow. ADVACAM's spectral camera, based on a Timepix3 chip with high resolution, makes it fast and compact. Instead of taking a single diffraction image accumulating all X-ray energies (wavelengths) into a single image as performed in the traditional XRD apparatus, we record about 150 images at once. One picture for each energy channel. Due to this enhancement, the system operates at a speed two orders of magnitude faster than conventional XRD systems.
The high-resolution detector can be placed close to the sample covering a large solid angle, leading to fast data accumulation. Moreover, our cameras can handle a broad energy range (3 – 150 keV). Therefore, even heavy samples, including stainless steel, heavy metals, and minerals, can be transmitted.
XRD IN-DEPTH QUENCHING AND WELD INSPECTION
Quenching alters the inner structure of a metal, leading to improved mechanical properties. Inspecting a quenched material with X-ray diffraction can provide valuable information about the effectiveness of the quenching process, the presence of different phases, residual stresses, and crystallographic textures, helping to optimize material properties.
Traditional X-ray Diffraction methods employed for quenching inspection use low-energy monochromatic X-rays that cannot penetrate the sample volume. This way, just the sample surface is inspected. To inspect the material's volume, harder X-ray radiation is necessary. Utilizing our energy-sensitive detectors, we can measure the X-ray wavelength, eliminating the need for monochromatic X-rays. Through software post-processing, a diffractogram image of the entire volume can be generated. Simultaneously, our method is approximately 100 times faster, as it takes advantage of the full spectrum.
In the context of quenching or weld inspection, we can determine the crystallographic structure of the metallic sample throughout its entire depth. XRD can identify various phases present in the quenched material, such as retained austenite, martensite, or precipitates, allowing for an assessment of the quenching process's effectiveness and optimization of heat treatment parameters. Quenching can induce preferred orientations or "textures" within the material's crystal structure. XRD can characterize these textures, significantly impacting the material's mechanical properties and performance.
XRD MINERAL MAPPING
Imagine the ability to create detailed maps of ore distribution within a piece of rock in almost real time. Now, envision pinpointing the precise locations of valuable substances such as gold, silver, zinc, or copper, not just on the surface but throughout the entire volume of the mineral. This is precisely what our cutting-edge X-Ray Diffraction (XRD) solutions can achieve.
Our advanced single-particle counting cameras, combined with Energy Dispersive X-ray Diffraction (EDXRD) technology, allow for rapid scanning of the entire volume of a mineral sample within milliseconds. For example, a point in a 5 mm thick piece of rock can be examined in just 10 milliseconds.
Rapid mineral mapping significantly reduces the time required for sample analysis, leading to substantial cost savings and faster decision-making in exploration and mining operations. For example: Thanks to this approach, we can differentiate valuable Zn+Pb compounds and invaluable waste.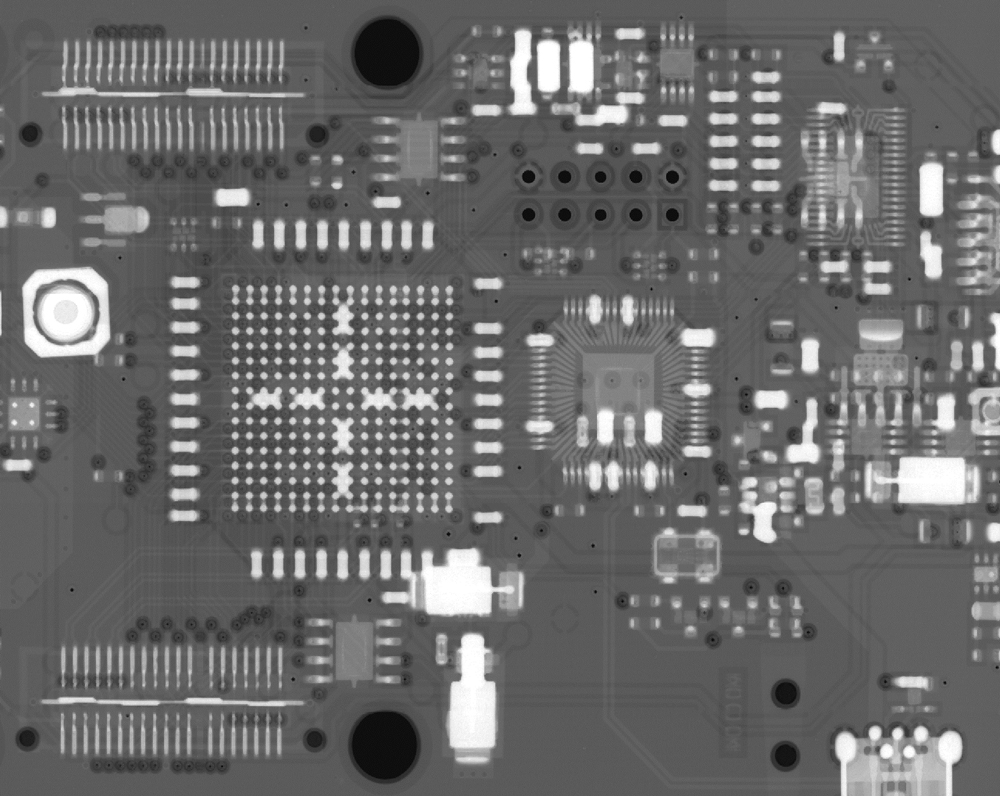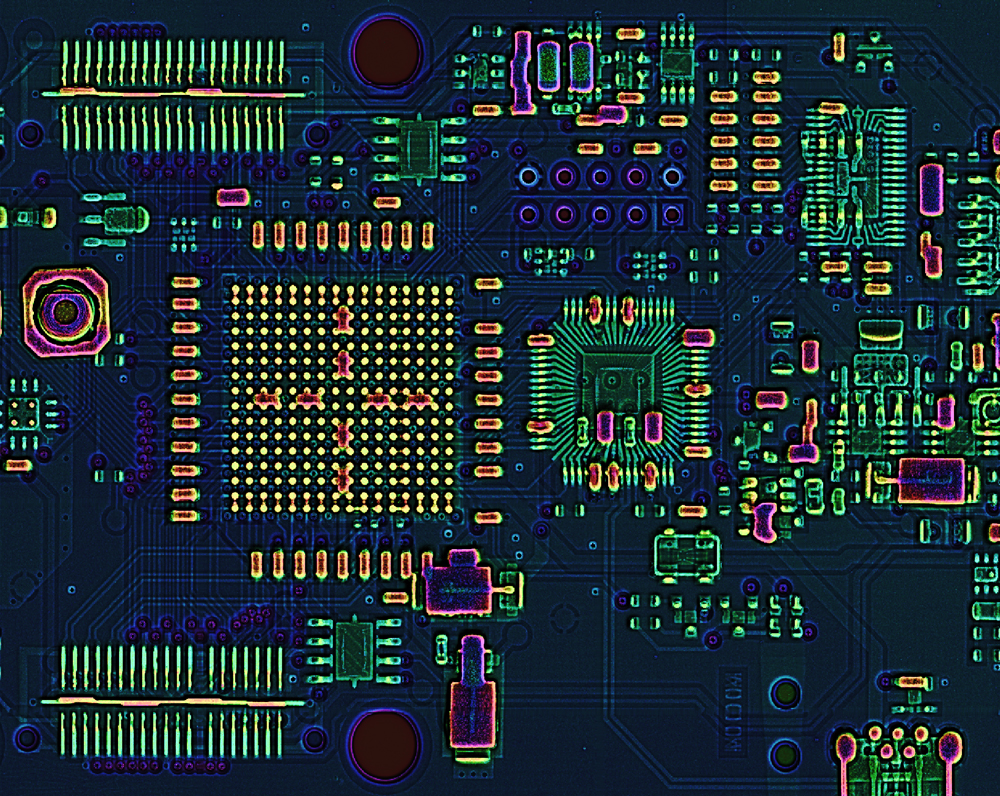 FPGA circuit board visualized by our material sensitive X-ray technology compared to traitional grayscale X-Ray image. The yellow color identifies the solder; tantalum capacitors are pink, and many other colors regarding other present materials. The image was done by WidePIX 5×5 CdTe detector (60 kVp, 3 energy channels at (7, 20 and 35 keV)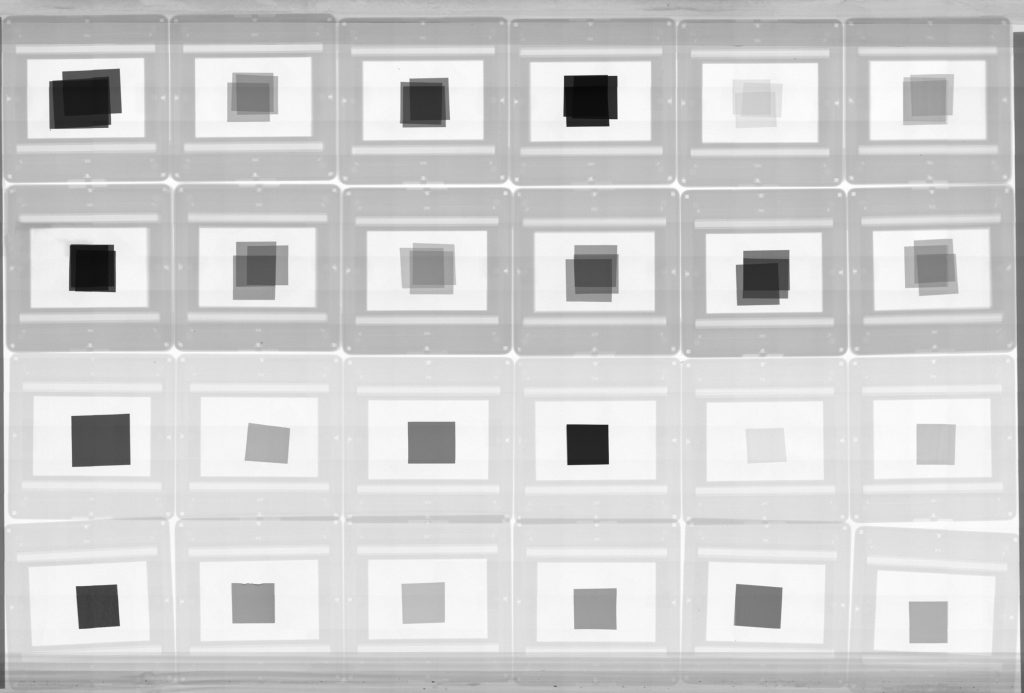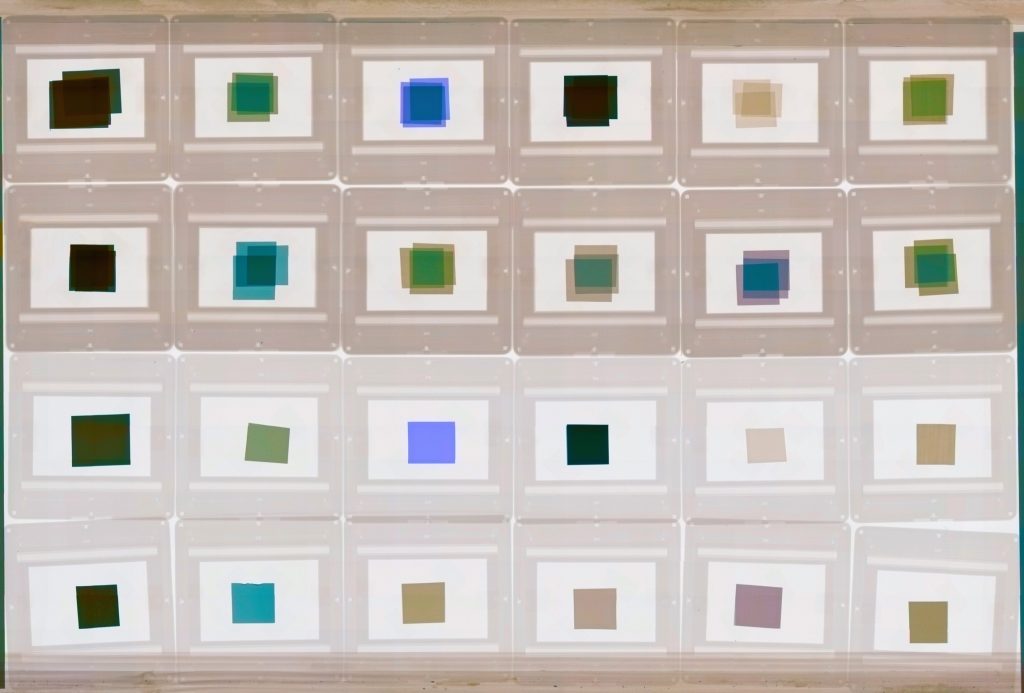 Various elements visualized by color x-ray radiography compared to traditional black and white x-ray imaging. In common grayscale X-ray images, some materials may appear at the same grey level even if they have an entirely different elemental composition. These differences are visible thanks to multichannel X-ray imaging.
The spectral X-ray imaging was evaluated using Radalytica robotic X-ray scanner that integrates Widepix 1×5 MPX3 CdTe detector. The scanner essentially extends the Widepix sensitive area from 70×14 mm2 to an area of up to 600×1200 mm2.
MATERIAL-SENSITIVE X-RAY INSPECTION
Our energy-sensitive X-ray cameras enable color radiography images to visualize different materials in your sample. Our multichannel imaging can be utilized for circuit board inspection, ore quality identification, and numerous other applications.
Do you need to determine the material composition of your sample? Minerals, alloys, polymers, electronics, batteries, or pigments? Our cameras are based on cutting-edge single X-ray photon counting sensors, and each detected photon is processed individually. This approach also allows measuring the wavelength of photons. It brings unprecedented image quality and new possibilities, such as material-sensitive X-ray imaging.
In the image, there is an FPGA circuit board visualized by our material-sensitive X-ray technology compared to a traditional grayscale X-Ray image. The yellow color identifies the solder; tantalum capacitors are pink, and many other colors regarding other present materials.
REVOLUTIONARY ORE QUALITY IDENTIFICATION
Our energy-sensitive spectral X-ray cameras facilitate color radiography images, visualizing different materials within your sample. Our multichannel imaging can be employed for cutting-edge real-time ore quality identification on operational conveyor belts in mines.
Our material-sensitive imaging detectors can be calibrated to exhibit sensitivity toward specific chemical elements or compounds, which can be harnessed for ore quality identification. This confirms the presence of valuable metals, such as copper, iron, or zinc, in ore samples.
This approach offers unique applications in the mining industry. With the Time-Delayed Integration mode (TDI), our cameras can help sort the ore by quality on fast-moving conveyor belts in real time. The TDI mode captures images of moving objects at low radiation intensity levels. The architecture of the detector read-out-chip allows a shift of the pixel matrix along columns. Shifts are synchronous with the object's movement. TDI mode is used together with multi-energy X-ray imaging.
As part of the European Union Horizont 2020 X-MINE project, a high-resolution, high-speed X-ray camera designed for large scans and conveyor belts was developed and tested under extreme, real-world mining conditions. The ore is sorted right after X-Ray inspection on the conveyor belt moving beneath the camera at speeds of up to 5m/s. This method ensures that only valuable rocks containing significant amounts of ore are processed while the rest of the material is removed from further processing.
The microstructure and the ore decomposition within the inspected sample rock are also visualized. It plays a significant role in proper mineral identification. The rock's granularity, crystal orientation, and veins can be specified.
This solution is both cost-effective and environmentally friendly, as it reduces the energy and chemicals needed for further ore processing. This approach led to approximately 20% savings in water, chemicals, energy, waste, and overall costs in actual mine conditions.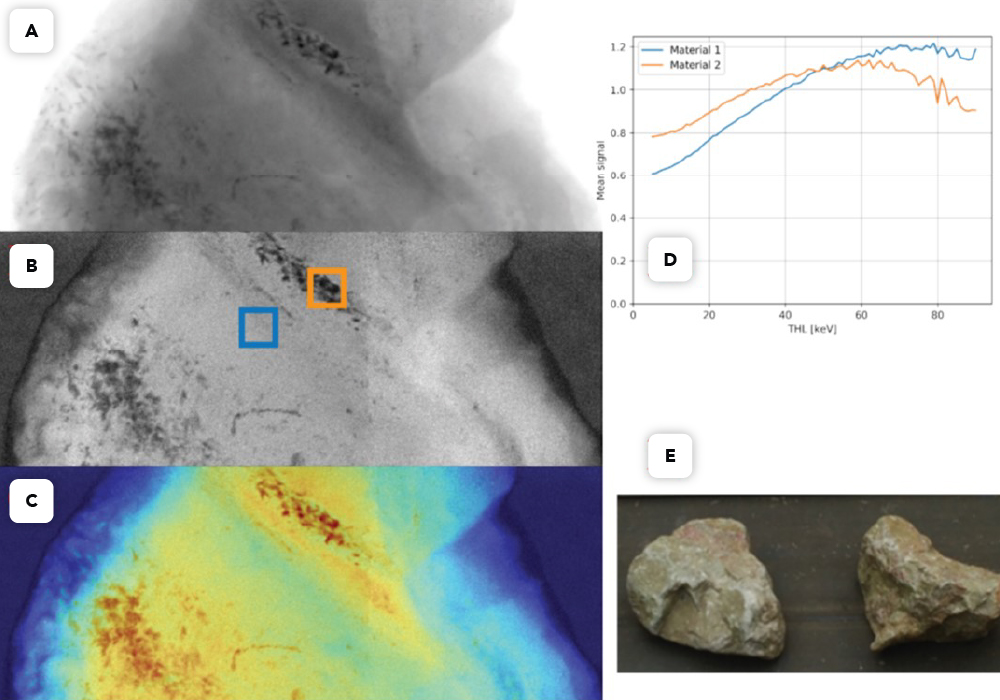 Multiple X-ray transmission images are taken with different energy sensitivity (threshold). Each transmission scan is converted to an equivalent thickness of reference material (e.g., aluminum). Different materials in a sample show different spectral dependencies. If the actual imaged material equals the reference one, then both images show the same equivalent thickness.
NOISELESS AND FAST ELECTRON MICROSCOPY
Our single-photon counting detectors provide a highly sensitive solution for electron microscopy. In addition to its high sensitivity, it can accurately determine each electron's position, time of impact, and energy. These unique attributes enable generating noiseless and clear images at thousands of frames per second.
With a time resolution in the nanosecond range, the technology can record processes that occur exceptionally quickly within samples. This opens up new opportunities for conducting experiments that were previously unfeasible.
Utilized by our spin-off company AdvaScope, the TimePix3 camera is accommodated in various applications, including 4D Scanning Transmission Electron Microscopy (STEM) in SEM/TEM, Micro Electron Diffraction (µED), Electron Backscatter Diffraction (EBSD), Electron Energy Loss Spectroscopy (EELS), Micro/nano Computed Tomography (CT) or Ptychography.